Garmin Approach G12 GPS Golf Range Finder
From

£119.00
From

£119.00
Code: 28205 / 2H17
The all-new Garmin Approach G12 GPS Golf Range Finder offers the user a multitude of options in this extremely well thought out slimline clip-on design. The G12 comes with over 42,000 preloaded course view maps from all over the globe, with free lifetime updates to courses. The Approach G12 automatically recognises the golf course you are playing based on your location. The all-new Approach G12 is the perfect golf partner, find the best way to plot your way around the holes with exact yardages to the front, middle or back of the green and also hazards and doglegs so you can get creative with shot shaping. Another well thought out feature is the big numbers mode, this feature increases the type size, making simple reading at a quick glance.
The Approach G12 benefits from a brilliant green view feature, this feature shows each green's true shape from wherever you are on the course, and it also allows the player to drag-and-drop the pin for pinpoint accuracy.
A great feature of the G12 is the digital scorecard keeping, use this to track match play, Stableford, Skins and match play with adjustable handicaps. Put the pencil and soggy card away when the rain is doing it's worst and keep track at the touch of a button, simple convenience.
Battery life is fantastic and never needs to be worried about, the rechargeable battery lasts up to 30 hours in GPS mode, that's in excess of over 5 rounds! so forgetting to recharge once in a while wouldn't cause any major issues whatsoever. As with all Garmin GPS products, the G12 is fully IPX7 Water-rated and waterproof in case the weather turns sour, so playing in the rain is no problem.
The Approach G12 can also be used for club tracking when paired with a full set of Approach CT10 club tracking sensors for more tracking capabilities (sold separately)
Garmin has yet again delivered with this slimline and multi-function GPS Range finder, The company that leads the field in premium equipment. This is a fantastic device that will serve all of your golfing needs and will allow you to monitor your game with ease. How could you resist all these great features in one great slimline package?
1.3" inch high-resolution display.
Over 42,000 pre-loaded courses.
Free lifetime updates.
Yardages to front/middle/back.
Green view feature.
Yardages to hazards and doglegs.
Use as a digital scorecard.
Up to 30 hours of battery life until recharge.
Large numbers mode.
Clip to pocket/belt/bag with built-in clip.
Slimline.
Water rating: IPX7.
Colour: Black.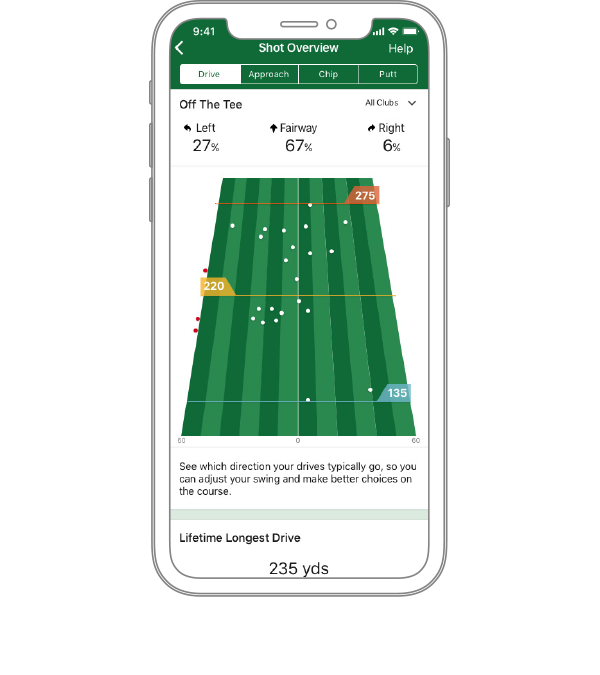 GARMIN GOLF APP
The Approach G12 can also be paired with the Garmin Golf App on a compatible smartphone for strokes gained analysis to participate in leaderboards and tournaments and to further gain more data about your game.
Garmin Approach G12 GPS Rangefinder Specifications
| | |
| --- | --- |
| Brand: | Garmin |
| Type: | GPS |
| Warranty: | 1 Year |
| Product Code: | 010-02555-01 |